Job Transformation Map for the Logistics Sector
Minister for Manpower and Second Minister for Trade and Industry, Dr Tan See Leng, visited ST Logistics' Clementi Loop facility on 26 Nov 2021 to launch the Job Transformation Map (JTM) for the Logistics Sector. Championed by Singapore's Economic Development Board (EDB) and supported by the Ministry of Manpower (MOM), Enterprise Singapore (ESG), SkillsFuture Singapore (SSG) and Workforce Singapore (WSG), the JTM explores the impact of Industry 4.0 (14.0) technologies on jobs and the workforce employed in the logistics industry. The report also highlights how various job roles in the industry would be significantly disrupted and transformed due to rapid adoption of technology in the industry and in response, the need for employees to keep pace with significant changes to job demands and deliverables by meticulously learning new skills and technologies. The JTM also highlights critical roles that employers can play in the industry's transformation journey, which includes collaborating with the Government and the Supply Chain Employees' Union (SCEU) on adopting various industry-level workforce transformation programs such Career Conversion Programmes (CCPs) to actively train the industry's workforce to remain relevant and resilient in the face of industry transformation.
Read more about the Logistics Job Transformation Map here:
https://www.wsg.gov.sg/content/about/jobs-transformation-maps/logistics-sector.pdf
ST Logistics' Involvement
Recognising that innovation is a necessity to remain at the forefront of the industry, ST Logistics has been relentless in the adoption of automation and technology in its operations. Productivity and throughput for routine tasks such as online order processing and piece-picking at goods-to-man stations have been greatly enhanced with the implementation of the Automated Storage and Retrieval System (ASRS) as well as Pick-To-Light technology. The ASRS automatically retrieves tote boxes that are required to be picked, and the Pick-To-Light Technology indicates the items and quantities that are required to be picked from the respective boxes. These automation technologies boost productivity and reduce the likelihood of errors in packing. At the warehouses, ST Logistics has also deployed Autonomous Mobile Robots (AMRs) that enable bulkier goods to be brought to operators at the picking stations. These goods-to-man technology allow our operators to be stationed at a single location while goods are brought to them for packing, thereby saving time and reducing labour intensity on the shop floor.
ST Logistics has also tapped on the Career Conversion Programmes (CCP) by WSG to re-skill 38 employees over the past two years – these employees have undergone skills training to be redeployed into jobs that have been impacted by the adoption of automation and digital technologies. These employees, who range from warehouse operations crew to executives at back-offices, have been successfully retrained to be competent in automation and data systems. They have also enhanced productivity for themselves and their customers.
To complement workforce transformation, ST Logistics has also developed a Skills Management System (SMS) powered by JobKred. The SMS has enabled the ST Logistics' Company Training Committee, made up of the Company's leaders and the SCEU reps, to identify and address skills gaps when the Company redeploys or reskills workers to take on new roles in the CCPs.
Snapshots of Minister Tan See Leng's Visit to ST Logistics on 26 Nov 2021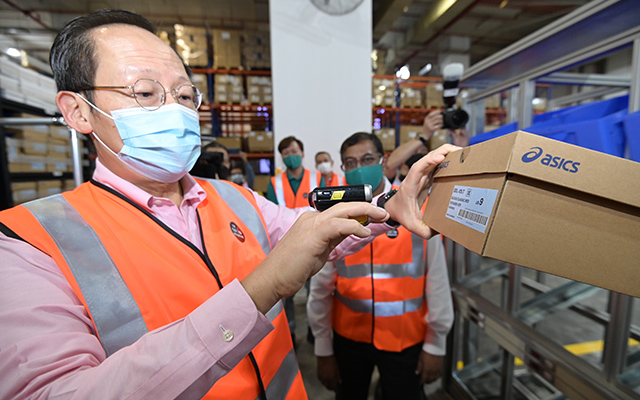 Minister For Manpower and Second Minister for Trade and Industry, Dr Tan See Leng performing a piece-pick task with a finger scanner, at a goods-to-man station in ST Logistics' Clementi Loop. The stations are manned by Automated Robots that enhance throughput and increase productivity during pick and pack operations.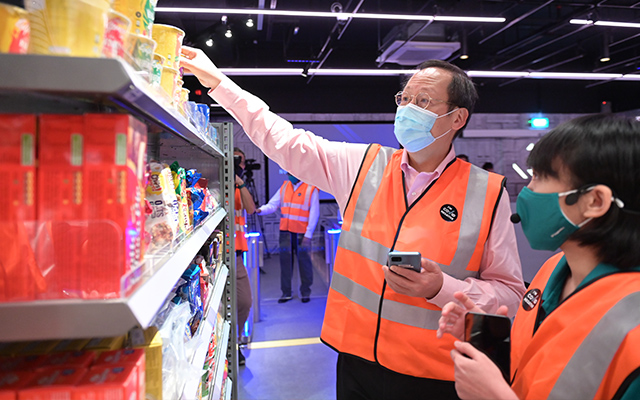 Minister Tan exploring our Pick & Go unmanned store solution, which is designed to automate store operations and enhance shopping experience at our eMarts.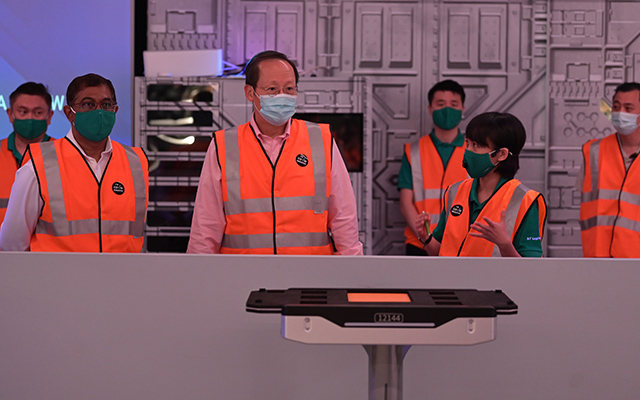 Minister Tan viewing the unmanned robots of our Automated Dispensary System in action. The system is designed to enable unmanned picking operations at our customers' stores in hospitals, military camps and police stations.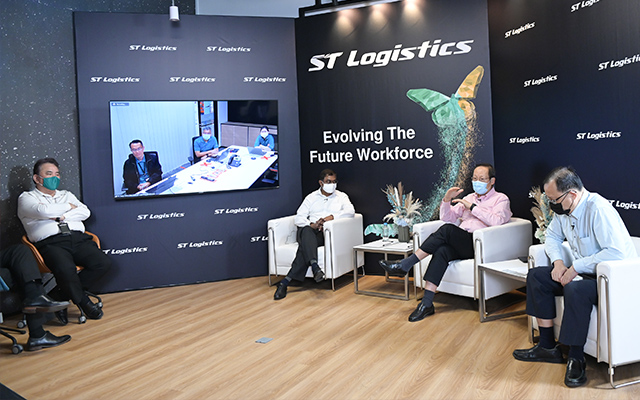 Minister Tan had a lively virtual interaction with the ST Logistics team. The Government stands ready to partner businesses as they undergo technological adoption and workforce transformation. [From left: Mr Loganathan Ramasamy, CEO, Minister Tan See Leng, Mr Mohd Fahmi Aliman, Executive Secretary of Supply Chain Employees' Union and NTUC Director]