The National Healthcare Innovation & Productivity (NHIP) Medal is an annual event organised by Centre of Healthcare Innovation. It serves to recognise, celebrate, and acknowledge the excellence of innovation & productivity in the healthcare system.
ST Healthcare (STHC) is proud to be awarded the Best Practice Medal (Automation, IT and Robotics Innovation category) with our project titled "Building a sustainable and resilient value-based supply chain through innovative models and technology advancements".
This collaborative project with Tan Tock Seng Hospital started with the intent to improve the existing supply chain processes in the hospital. Over time, their supply chain capabilities have been elevated and transformed to the next level, bringing more value and outcomes to healthcare staff and patients. With their upcoming plans for Novena Health City in 2030, a highly effective, robust and scalable supply chain resilience model is in place for both routine and emergency situations.
STHC's strategy in redesigning TTSH's supply chain:
Storing at Offsite Storage Location – Bulk storage in an offsite location allows for upscaling and lower storage cost.
Outsourcing of Routine Procurement – By outsourcing the procurement process, TTSH is able to focus on strategic planning such as data analytics to make smart business decisions and lower purchasing costs.
Use of SMART Ordering System Onsite – STHC & TTSH introduced a 2 barcode scanning solution for ward replenishment, which allows for electronically sent orders to our Warehouse Management System (WMS) instead of visual checks.
Product Tracking System – STHC's in-house WMS enhances visibility of each product with the capability of tracking each product's batch number and expiry date, down to the location it was delivered to.
Use of Vertical Lift Module (VLM) for the Storage of Loose Products – The VLM will be used to store 80% of TTSH's medical consumables as it involves loose picking. The VLM is a goods-to-man storage system consisting of vertically arranged trays, which delivers each tray automatically to the operator at an ergonomic position, using laser pointers for accuracy.
Supply Chain Control Tower System (SiTadeL) – SiTadeL assists in coordinating both operational and business intelligence requirements to string the supply chain together seamlessly. During normalcy, SiTadeL is used to monitor daily delivery statuses and KPIs. It is also scalable to handle emergencies such as a national pandemic due to the visibility it provides across the entire business.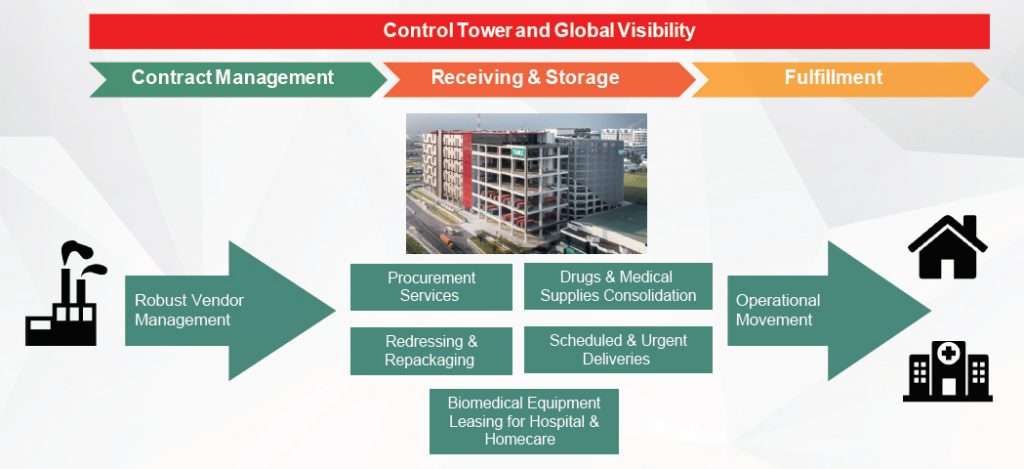 Result & Benefits
The strategy was successful, and proved that a vendor could support their medical consumable needs from an off-site facility.
With these strategies in place to ensure a robust supply chain for TTSH, benefits for both parties are aplenty – reduction in manpower, reduction in administrative work, ability to cater for surges and expansion, the transfer of risk and inventory holdings to the vendor, data analytics and tightened security to name a few.
STHC believes constant innovation is crucial to futureproof operations and the workforce, and transform the healthcare supply chain.